This is the old TNJP Homepage! It is no longer updated and is preserved as an archive for posterity. Please go to the
new dynamic TNJP blogging website
for the latest.
National Boycott To Impeach for Peace and Justice
Bring Them Home - Impeach Them
Spell it out on April 28: I M P E A C H
Flashback -
Operation Iraq Liberation
by Tom Baxter, April 5, 2003
It's Time to Come Home
On March 19th, 2007 organizers and volunteers commemorated the 4th anniversary of the Iraq War by setting up and displaying 3200+ luminaries around the paths and walkways of Lake Ella in downtown Tallahassee.
Hundreds of Tallahasseeans and folks from all over the area came for a stroll and reflection of the toll the Iraq War has taken on our sons and daughters. Not all remained silent, as many a conversation about getting OUT of IRAQ was witnessed.
Below is a pictorial essay of the event starting just before dusk and extending 'til after sundown. Both serene and sobering, the views around Lake Ella provided ample opportunity for reflection on the events of the past four years and where we as a country are headed in the future. The event was one of thousands organized nationally by
United for Peace and Justice
and
MoveOn.org
.
(
Pictorial Essay
) (
Local Press Coverage
)
WHY I FIGHT FOR PEACE
by Cloy Richards USMC
Because I can't forget no matter how hard I try.
They told us we were taking out advancing Iraqi
forces, but when we went to check out the bodies
they were nothing but women and children
desperately fleeing their homes because
they wanted to get out of the city
before we attacked in the morning... (
more
)
Human Rights and Impeachment Day DEC, 10th, 2006
December 10 is Human Rights Day, and this year we're making it Human Rights and Impeachment Day. Slogan: "Putting Impeachment on the Table."
Tallahassee will have a RALLY FOR -
WAR CRIMES TRIALS
IMPEACH BUSH CHENEY
SUPPORT GI RESISTERS AND THE GI RESISTANCE
Congresswoman Cynthia McKinney's Articles of Impeachment
As her last act as a US Congresswoman, Cynthia McKinney filed articles of impeachment against George W. Bush, Dick Cheney, and Condi Rice on Friday December 9th, 2006.
Saying
"With a heavy heart and in the deepest spirit of patriotism, I exercise my duty and responsibility to speak truthfully about what is before us...", she formally introduced the articles of impeachment. ... (
more
)
Friday, October 06, 2006
'World Can't Wait' rally in Tallahassee FL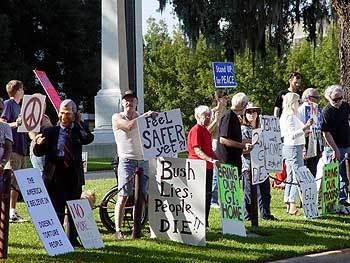 On Jan. 1st, 2006 Tallahassee CodePINK read the names of Florida's War Dead in front of the Old Capital on Monroe St.
Florida Peace Links
- our directory of Fl. Peace Groups
Tallahassee IMC RIP?
TNJP's 2005 Index
The old
About TNJP page